If we provide energy to an electrode then the electrons in the outer most shell of the atom of that metal gain enough energy to erect form the surface of that metal or electrode. This process is called electronic emission.
Types of Electronic Emission
There are basically four methods of producing electronic emission.
Thermionic Emission
Photoelectric Emission
Secondary Emission
Field Emission
1. Thermionic Emission

In this type of emission the electron emission is achieved by heating the electrode. Due to heating the electrons get enough energy that they emit from the surface of that material. An electron emitted from a hot cathode comes out with a velocity that presents different between the kinetic energy possessed by electron just before emission usually used in cathode of diode, triode, pentode, CRT and many other.
2. Photoelectric Emission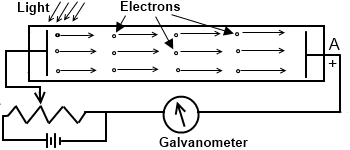 Electron emission from a metallic surface by the application of light is known as photoelectric emission. When a beam of light strikes the surface of cathode normally made of potassium, Sodium the energy of photons of light is transfer to the free electrons of cathode. If the energy of incident photon is greater then the free electrons of the metal then the emission of electron from that metal take place.
3. Secondary Emission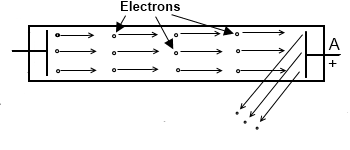 Electron emission from a metallic surface by the bombardment of light speed electron is known as secondary emission.
When the high speed electron from the cathode strike with the anode. some electrons are emitted from the anode. This phenomenon is called secondary emission.
4. Field Emission
Electron experience a force when it is in an electrostatic field. When metal surface is placed in an electric field the electron rotating in their orbits experience a force. An electron is attracted towards the positive electrode and experience a force in the direction opposite to that field. Hence the process of electron emission by application of strong electric field at the surface of a metal is called field emission.