Charles coulomb formulated two laws on the bases of experiments, which are known as electrostatic laws, or coulomb laws of electrostatic.
COULOMB FIRST LAW OF ELECTROSTATICS
"It state that like charges of electricity repel each other and unlike charges attract each other".
COULOMB SECOND LAW OF ELECTROSTATICS
It state that the force of attraction b/w unlike charges or force of repulsion between like charges are directly proportional to the product of the both charges and inversely Proportional to the square of the distance b/w center of the charges.
EXPLANATION
Suppose Q1 and Q2 are two unlike charges placed at a distance 'd' apart from each other as shown in the fig,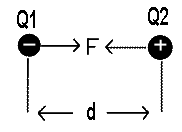 F ∝ Q1Q2
F ∝ 1 / d2
Combing these two relation we get

Where "k" is a constant depending upon the permittivity of the medium and its value is given by,

Where "ε" is the permittivity of any medium, now

εr = ε / εo
ε = εoεr
Put this value of ε in above eq, we get