555 Timer IC as a-stable Multivibrator
A 555 timer IC is used as an a-stable multi-vibrator as shown in the given figure (A). The threshold input is now connected to the trigger input (Pin 2), the resister R1, R2 and capacitor C1 for timing network which set the frequency of the oscillator. The capacitor C2 connected to the control input.
Initially when the power supply is turn ON, the 555 timer IC capacitor C1 is uncharged and the trigger voltage on pin 12 (B) is zero. In this case the out put of comparator B is high and the out put of comparator A to be low, which keeps the base of transistor Q1 low and turns OFF the transistor.
Now C1 starts to charge through R1 and R2 as shown in the figure (b). when the capacitor voltages reaches to 1/3, the comparator A (Figure B) switch to his low operating state and when the capacitor voltage reach to 2/3 the comparator A (Figure B) switch to its high operating state. This RESET the latch, this RESET turns ON the transistor Q1 through the capacitor C1 is discharged.
The frequency of the oscillator is given by the following formula.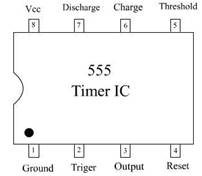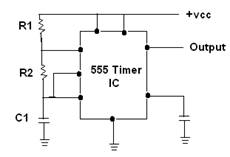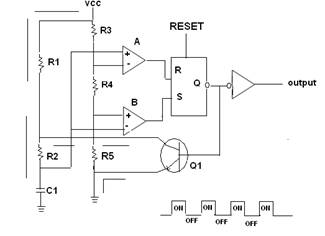 Truth Table

| R | S | Q | Q |
| --- | --- | --- | --- |
| 0 | 0 | Old state | Old state |
| 0 | 1 | 1 | 0 |
| 1 | 0 | 0 | 1 |
| 1 | 1 | Unknown state | Unknown state |