Construction
The gallium Arsenide laser is designed in such a way that a piece of N-type Gallium Arsenide material is taken and a layer of natural gallium aluminum arsenide material is pasted, The third layer of p-type gallium arsenide material is pasted over that.
Now we make another layer of P-type gallium aluminum arsenide material above these layer. Above all these layers the P-type gallium arsenide material is also pasted. The order to make the contact points, the two metal layers are made at two opposite sides as the laser where contacts terminals are designed. The two ends of length wise are fully polished in order to amplify the light by cross reflection. Here one ends is partially polished from where we get the laser beam.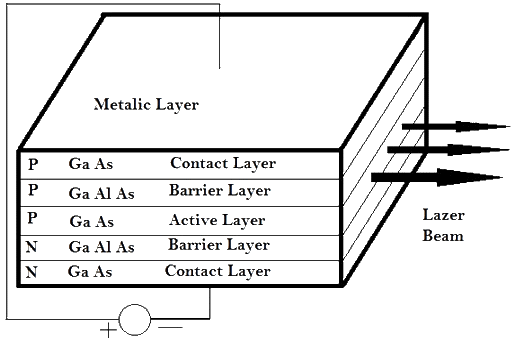 Working
When the forward biase is applied to the metallic layer through contact points. The electric field is produced. This electric field causes the electrons to move from lower band of energy towards high band of energy level. population inversion take place at the higher band of energy level and when the electrons falls back at the lower energy band, it emits light, through the polished end of the laser. Cross reflection of the light take place which multiplies strength of laser beam. At the end strong beam of laser comes out through the partially polished end.