Repeaters are used to extend the communication distance at VHF, UHF, and microwave frequencies. The concept of repeater is illustrated in Fig.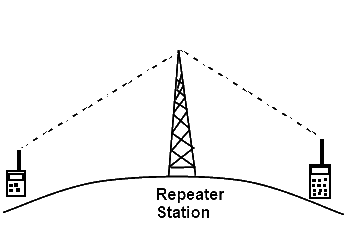 UHF, VHF and microwave signals pass through the ionosphere (line of sight communication) and are not bent. Transmission distances at these frequencies are extremely limited. you can see why FM and TV broad costs over only limited distances. To extend the communications distance at VHF, UHF and microwave frequencies, special techniques have been adopted. The most important of these is the use of repeater stations. The function of the repeater is to pick up the signal from a transmitter, amplify it, and retransmit it on another frequency to receiver. Usually the repeater will be located between the transmission and receiving stations and will, therefore, extend the communication distance.
This concept can be taken further by using a whole series of repeater stations as shown in below fig. Each repeater contains a receiver and a transmitter. The original signal is picked up, amplified and retransmitted on a different frequency to a second repeater which does the same process again and send it forward.