Construction
The travelling wave MASER (T.W.M) consists of a wave guide structure in which the wire figure or comb is designed. The wire figure is a number of conducting plates situated inside the wave guide once having windows in the center. Another window is constructed at one side of the wave guide for the ump input. The input and output ports are designed for R.F signal at the opposite ends of structure. In the center of T.W.M a lightly doped ruby crystal is kept to produce the MASER action.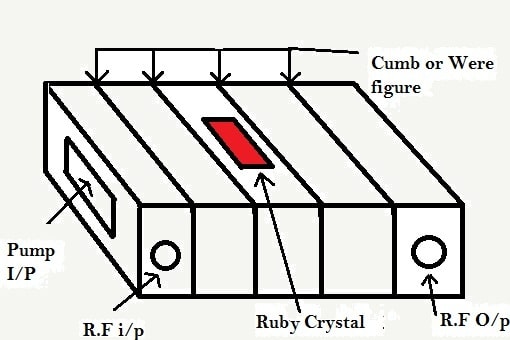 Working
When the pump input is provided to the travelling wave maser (T.W.M). The electrons move from lower band of energy level towards the high band of energy level at the higher energy band population inversion take place and the electrons fall back to the lower energy band. During this time they emit the photons, which generate the microwave frequency.
This action causes to excite the (T.W.M) cavities. As shown in the diagram. That we have a number of cavities inside the wave guide structure from input port to the output ports. This structure results to increase the band width of the maser. The structure is known as slow wave structure, which produces or generates when the R.F signal moves from input to the output through the wire figure. This structure causes to increase the band width of the maser and makes the (T.W.M) useful for different purposes in the radar system.